Digital downloads
Please enjoy a series of audio files of guided meditations and melodies available for purchase or for free.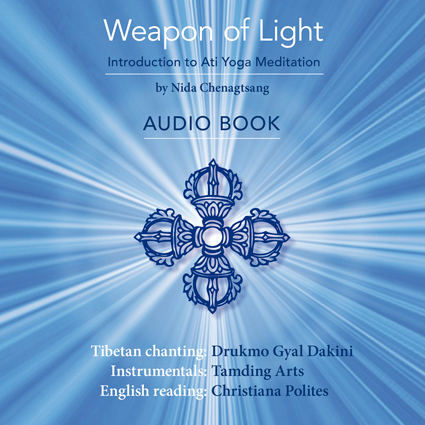 Weapon of Light Audio Book
Full audio album with Tibetan Chanting of Dr Nida's root Tibetan verses, music by Tamding Arts, and and English reading of the text.
$10
Digital download of English only reading of Dr Nida Chenagtsang's Tibetan verses entitled 'The Weapon of Light of the Primordial Wisdom which Vanquishes the Darkness of Samsara.'
15 minutes, 20 seconds
FREE
Complete chanting of the Yuthok Nyingthig preliminary practices by Drukmo Gyal.
$10
Drukmo Gyal chanting the seed syllables of Tibetan bLa (Tibetan: བླ།) massage: a subtle energetic treatment from the Tibetan Medical tradition used to restore 'la', the vital protective energy closely connected with consciousness.
$10
Digital Download of Guru Rinpoche's instructions on mind given in the 8th century to the great female master Monmo Tashi Chidren and revealed by Terton Guru Chowang.
As presented in Weapon of Light
Translation Ben Joffe
8 minutes, 22 seconds, guided analytical meditation
$5
Enjoy the beautiful melody of Yuthok's Feast Song, chanted by Bhutanese singer Phub Zam
14 minutes
FREE